If you've been reading this blog then you will know that I LOVE chocolate ! It is my Achilles heel and if it's in our house it rarely lasts long. If I'm not surreptitiously devouring a morsel or three, it's the rest of the household fighting over who gets the last piece. Saving your last rolo for someone you love in our house is a rare occurrence. It's very much each for their own on the chocolate front !
We lived in France for just short of 3 years and in that time I was able to sample an eclectic mix of chocolate much of which was made for the discerning palate. Despite the fact that I love a square or two of what the European's term as "chocolate substitute", I do love a piece of dark cacao rich chocolate and I am pleased to say that my 2 girls have inherited a penchant for dark chocolate too. To see a 2 year old devour with joy, a piece of 90% cocoa dark chocolate is a beautiful sight and long may it continue.
So, when the opportunity arose to sample some of the Christmas Chocolate Selection from Hotel Chocolat, every sense in my body woke up and said "Me, me!"
I was kindly sent a box of Hotel Chocolat's "The Signature Christmas Collection" and whilst I eagely awaited its arrival I popped back to their website to find out more about Hotel Chocolat and what they do.
As a company, Hotel Chocolat cares greatly about where their cocoa comes from and they care about the people who grow and harvest it too. They have taken Fair Trade a step further by setting up their "Engaged Ethics" programme to create sustainable cocoa growing communities. As they explain "It differs from most other 'trading fairly' programmes as it goes beyond simply writing out a cheque and standing back (which is still a great deal better than doing nothing!) It's a roll-up-the-sleeves, take risks, long-term approach, which has led to a remarkable set of results so far." You can read more about their story, history and Engaged Ethics programme here.
As well as being able to shop direct with Hotel Chocolat, they also have a tasting club which intrigued me greatly. You can find out more about this on their website but for now I will share with you what we thought of the Christmas collection chocolates we were sent.
Beautifully boxed, this Signature Christmas Selection has something for everyone. I chose this box because it had a selection of white, milk and dark chocolates; some with alcohol and others without. It meant that as a family we could all indulge. And indulge we did ! I actually had to hide the box at one point as Tink who is just about to turn 3 became just a touch too keen on my precious chocolate selection. A box of maltesers this certainly is not and they were to be savoured and appreciated not wolfed down in one go.
My favourites were the Cranberry Cups, Hacienda lara Dark Salted Caramel 90% and the Mulled Ports. Hubby loved the Christmas Mess (great name) and the Rum & Raisin Truffles. The girls fought over the Cranberry Cup, Christmas Mess and the White Caramel Pralines.
I noticed that you can taste each and every flavour in every chocolate. The depth and complexity of the flavours and how they blend together yet still remain separate is clever indeed. I thoroughly enjoyed each and every one of the chocolates I sampled and have to admit that we were all rather disappointed when the box was empty.
With Christmas almost here, I have decided to get the girls the Mingles and Jingles Bag filled with 55 white, milk and dark chocolates all in a drawstring bag which looks like a Santa sack. I will also be purchasing a Festive Wreath to take to my husband's parents for lunch on Christmas Day.
Photo courtesy of Hotel Chocolat
Hotel Chocolat have a fabulous range of chocolates which I intend to come back to and browse over time. I have been very impressed with what I have tried so far and look forward to sampling what we have arriving for Christmas too.
If you are keen to indulge yourself before Christmas then Hotel Chocolat are taking orders right up until Monday 23 December and guarantee a Christmas delivery. If you're looking for something a little bit different and like me love your chocolate then Hotel Chocolat come highly recommended. They will definitely be staying on my "must try" list for a while to come.
If you wish to follow them via social media then they also have a Facebook page and they are on Twitter.
Xx Merry Christmas everyone xX
Wishing you all a fabulous, festive time with those you love
********
We are linking this post up with the lovely Vicky Welton's #PoCoLo this week, the last one before Christmas. Some great posts shared so why not pop across for a read x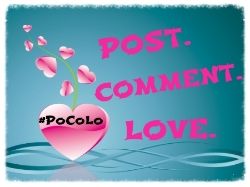 Disclaimer: We were sent a box of Hotel Chocolat's, The Signature Selection to try out for honest review. All opinions, thoughts and feelings are our own.